TODAY'S SEEDS OF WISDOM
JUST BLOOMED TODAY
AWKWARD PHOTO OF THE DAY
TWEET TREATS
DID YOU KNOW...?
DOG CONFESSIONS

GARDEN UPDATE

DOG HALLOWEEN COSTUMES

FAUNA

GARDEN GIGGLE
GARDEN GOODIES~SHARE OUR GARDEN RECIPE #0099 SLOW COOKER BRATWURST AND APPLES

WHAT IN THE WORLD?

FEEDBACK
JUST BLOOMED TODAY
AWKWARD PHOTO OF THE DAY
TWEET TREATS
bringing you the quirky, funniest and most interesting tweets from Twitter that we came across.
DID YOU KNOW...?
Do you know some of the folk lore sayings about October?
"Rain in October
Means wind in December"….."
and
"If the October moon comes without frost,
expect no frost till the moon of November".
DOG CONFESSIONS
GARDEN UPDATE
Did some clean up today and threw away some yard clutter, along with reconnecting the new hose we had just coiled up 100 feet of, without kinks, and then had to use it to fill the waterbed. So everything is back where it should be.
DOG HALLOWEEN COSTUMES
GARDEN GIGGLE
While driving down the road the motorist saw a roadside stand which had a fortune teller sitting under an umbrella. She was just sitting there smiling and laughing. The motorist passed on by and went a couple of miles on down the road. All of a sudden he spun his car around and sped back toward the fortune teller. As he got closer to the still laughing fortune teller he began to slow down. He pulled up next to the woman and jumped out of his car and suddenly began slapping and beating her.
A policeman passing by screeched to a stop and wrestled the man to the ground. After cuffing the man he stood him up and asked him, "What do you think you're doing?"
After a moment the man replied, ... "Well, I've always wanted to strike a happy medium."
FAUNA
GARDEN GOODIES~SHARE OUR GARDEN RECIPE #0099 SLOW COOKER BRATWURST AND APPLES
Mmmm...chilly nights, cuddling under the stars and October. Must be time for Oktoberfest food!

Oktoberfest is all about eating decadent German food and drinking a ton of beer, so what better way to celebrate than a slow cooked bratwurst cooked in beer? The meat is spicy, yet chewy and literally melts in your mouth. Top with some slow cooked vegetables and soft apples for the perfect Oktoberfest meal!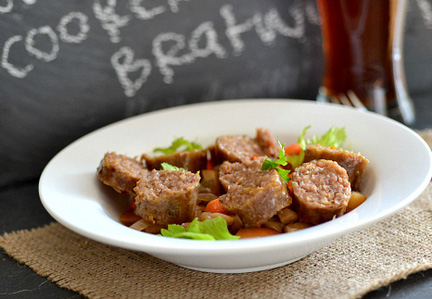 You Will Need:
(4) uncooked bratwurst links
(2) medium apples, chopped
(1) red onion, chopped
(2) cloves of garlic, chopped
(6) ounces wheat or amber ale
(2) tablespoons brown sugar
(2) tablespoons Dijon mustard
Dashes of salt and pepper
Instructions:
Place the bratwurst, apples, onion and garlic in a 5-quart slow cooker, lightly greased. Add the beer, brown sugar, mustard and salt and pepper.
Cover and cook on low for about 6 hours, or until the meat is done (160 degrees F).
Serve warm over the slow cooked vegetables, in a hoagie bun or eat on its own!
WHAT IN THE WORLD?
On today in American history, people in gardens everywhere were talking about:
1792 White House cornerstone laid
1903 The Boston Americans win the first World Series
1943 Italy declares war on Germany
1950 Jimmy Stewart stars in the award winning movie, "Harvey"
1967 American Basketball Association debuts
1975 Singer Charlie Rick protests John Denver's big win at the CMA awards
1977 Palestinians hijack German airliner
1983 The first cellular network launched in Chicago
1999 The Grand Jury dismissed in Jon-Benet Ramsey murder case
2012 Chilean Miners are rescued after 69 days underground
2012 Football Great and Actor Alex Karras dies